I have been lucky enough to live all over the world in the Far East for the most part, HongKong and Japan for over 10 years combined. Living now in Virginia I get homesick for London and I miss my family like crazy although my Father and Mum have passed away I still have a whole tribe there! I also miss Port Rush in N Ireland and Repulse bay in Hong Kong because they are the most wonderful places on earth to me and Most of my best memories come from those 2 places. I met my husband in Hong Kong when he was in the Us Navy Omg over 27 years ago now and he has been in my heart and soul ever since,We did split up for a while because I was incredibly stupid but things are wonderful again. (The greener grass is all bullshit )Lol..

I am an old Fart Heck,2 AWESOME kids 2 great Grand babies and I have a wonderful partner who sees and accepts me for who and what I am not what or who I should be.

I also play Violin and Ullean bagpipes, I love to teach violin but it is a little hard on the ears when they are young .


I am addicted to Poser! But I also use Vue
Espirit and Photoshop cs3 for My art work.

I have so many favourite artists who I buy from to indulge my poser habit! They have given me the opportunity to create some great things and I am very grateful for their creativity. Here are a few of my

s!

Sabaryn. Characters
Didi-mc (amazing Backgrounds
Mirandus-Arts. Characters
PDesign : Characters
Danie & Manaforno : sets Props
parrotdolphin: AMAZING textures.
Renpd Textures and clothing..

The list is vast and I have many more but they can be found in Renderosity Market Place
market.renderosity.com/ Also from Daz Studio www.daz3d.com/i/0/0?_m=d

Thanks for stopping by to View.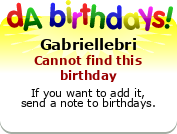 www.facebook.com/?ref=tn_tnmn#…

Create your own visitor map


Current Residence: Virginia
deviantWEAR sizing preference: Bigger the better
Favourite genre of music: All but lean toward heavy
Favourite style of art: All
Operating System: Vista
MP3 player of choice: Ipod
Shell of choice: Conch
Skin of choice: Mine
Favourite cartoon character: Sylvester
Personal Quote: Its not how you live its what you leave behind